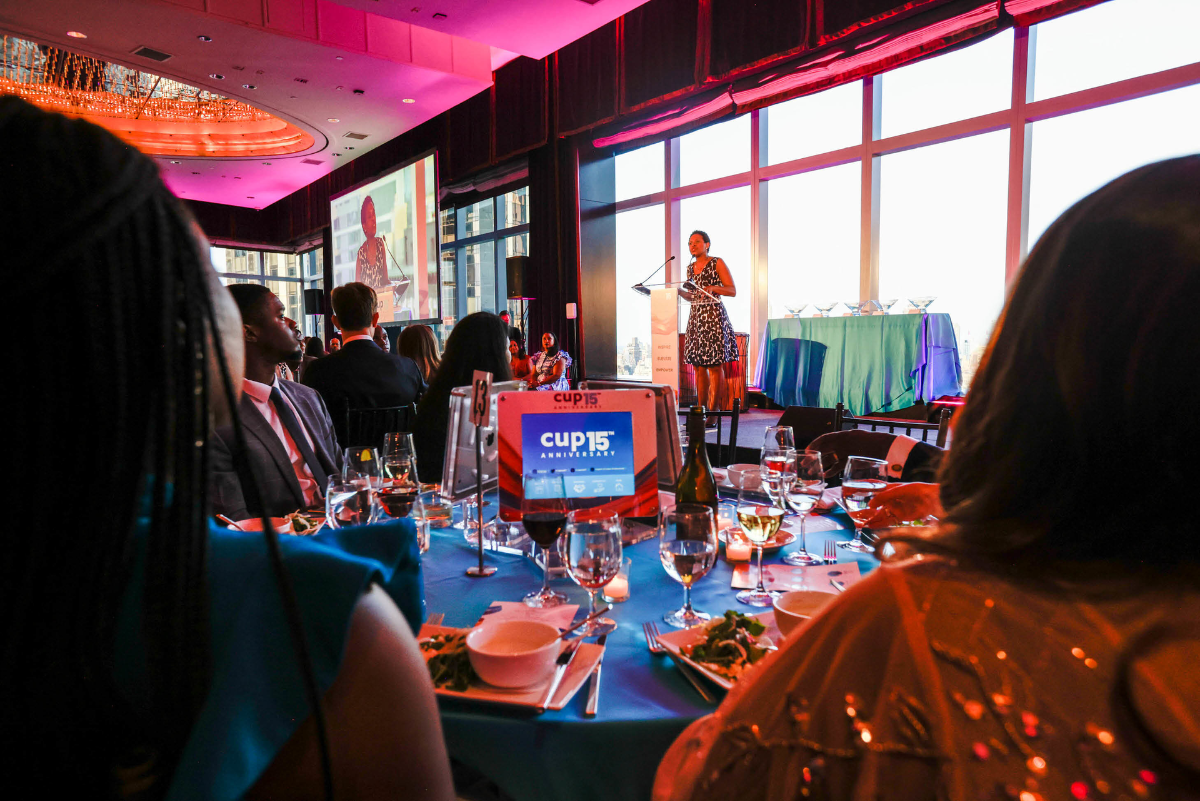 On June 15, 2022, the Council of Urban Professionals (CUP) went back to the ballroom to celebrate their 15th Anniversary Leadership Gala at the Mandarin Oriental in New York City.
This signature annual event raises crucial funds to support CUP's mission to inspire, elevate, and empower the next generation of diverse businesses, civic leaders, and women. As a professional development, social, and governance-focused organization, they wanted a paperless solution that kept their mission, vision, historical accomplishments, and future programming at the forefront of all guests.
Their needs were fulfilled by Keep Interacting, a New York-based event tech company that focuses on developing and maintaining digital centerpieces for events. Keep Interacting's Digital Centerpiece utilizes the available space in the center of each table as a hub for displaying crucial event information in front of each guest. This solution serves to breathe new life into material that would otherwise be printed or disregarded on big screens on the perimeter of the ballroom.
Following recommendations from Keep Interacting, a triple iPad display configuration was set up on each table to create an immersive multimedia experience at the gala. This 360-degree system helped CUP to streamline its marketing and help guide its guests on important takeaways at the event. This eco-friendly solution reduced printing costs of programs, especially with supply chain challenges due to COVID. This platform sets the scene for the "Digital Journal," a guided engagement tool used to update and educate donors at events on how supporting the mission truly makes a difference to the community being served.
At the click of a button, guests learned about their mission, vision, corporate partners, historical accomplishments, and their honorees, which included: Danielle Lee (Warner Music Group), who accepted the Industry Innovator Award; Morgan Stanley's Institute for Inclusion was awarded the Corporate Innovation Award, accepted by Susan Reid; Pilar S. Ramos (Televisa Univision), who accepted the Change Agent Award; Troy Vincent Sr. (National Football League), who accepted the Breakthrough Leadership Award; and Baratunde Thurston, who accepted the Thought Leader Award.
Throughout the night, with the use of these technological devices, guests also found information on how to donate, as well as view CUP's mission, vision, historical accomplishments, and future programming.
Keep Interacting's focus on adding value to the event continued with a post-event analysis of guest interaction with the digital centerpieces. Owner of Keep Interacting, Christina Howe, says her "favorite part of her job is using technology to build successful relationships with organizations and seeing them grow and succeed year after year."